Soundfall review – Good sense of rhythm
Last Updated Date: May 23, 2022 - 21:03
Soundfall is a rhythm game that combines freedom and music well, but at the same time offers many different and addictive options to keep playing.
Last Updated Date: May 23, 2022 - 21:03
For his Soundfall review, Menno takes his headset a step further to explore all the worlds and music Symphonia has to offer.
Music is a very important part of a game. It can make or break the atmosphere. Walking in a valley to calm guitar music or smashing demons to the loudest rock and metal music: it can provide relaxation or get you a little more excited about your victory. When this is the case, you know that the overall picture is correct and that every element of the game reinforces each other. Drastic Games wants to achieve exactly that with its first game, Soundfall. You need to feel that you are in the music world. Not only is the image of that world suitable for the music, the objects in it must all respond to the music. Drastic Games manages to completely mix levels and music in a very entertaining rhythm game.
To feel like you are in the music world, Soundfall uses an intelligent system that analyzes the music and creates levels accordingly. As a result, each level (apart from the story missions) feels different every time you play it. For example, the system analyzes the rhythm of a song and lets plants, speakers, fire and other effects move. Therefore, faster tracks are more challenging and contain more challenging enemies and obstacles. You can also increase the difficulty of each level, similar to games like Minecraft Dungeons. This system works as it should and when you replay them it adds a great new touch to the levels. Also, the levels get longer or shorter depending on the length of the song. The PC version also lets you add your own MP3 files. You also get a level created specifically for the song you imported. These random levels and special numbers are a nice way to level up characters.
Soundfall features five different playable characters that you unlock throughout the story. Each character has their own main weapon and skills. For example, the first character, Melody, can spin her sword very quickly with her ultimate ability. Also, when you complete story missions or special parts in the free play mode, you unlock gear that makes your characters stronger. The arsenal of weapons that you can collect or buy in levels in the in-game store is quite limited, but the weapons available are very different from each other. Powering up your character is a fun addition to a rhythm game, but it lacks depth for a game that calls itself a looter shooter.
The battle system revolves around the rhythm of the music being played. You can see the beat at the bottom of the screen, so you can easily return to the beat if you lose it. The aim is to click the fire button on the shot. If that doesn't work, your character will be out of breath; You can temporarily stop shooting and be vulnerable to enemy attacks. Knowing how to make a good combo just in time feels great. You can also mix this combination with other weapons like Melody's sword or Jaxon's axe. All these skills are put to the test when you come face-to-face with one of the creatively designed bosses. Without the right sense of rhythm, the most powerful weapons and tactical combinations, you won't get there that way.
Once your fighting skills are in place, it's time for the story mode. With beautifully drawn animation, you dive into five worlds where you must rescue Symphiona from the evil Discordians with increasing difficulty. Each world has its own theme, to which the music creatively responds. Story mode levels are not randomly generated, so replaying them is not as attractive as free mode levels. While the story isn't groundbreaking, it's still an extremely entertaining mod and definitely deserves to be tackled.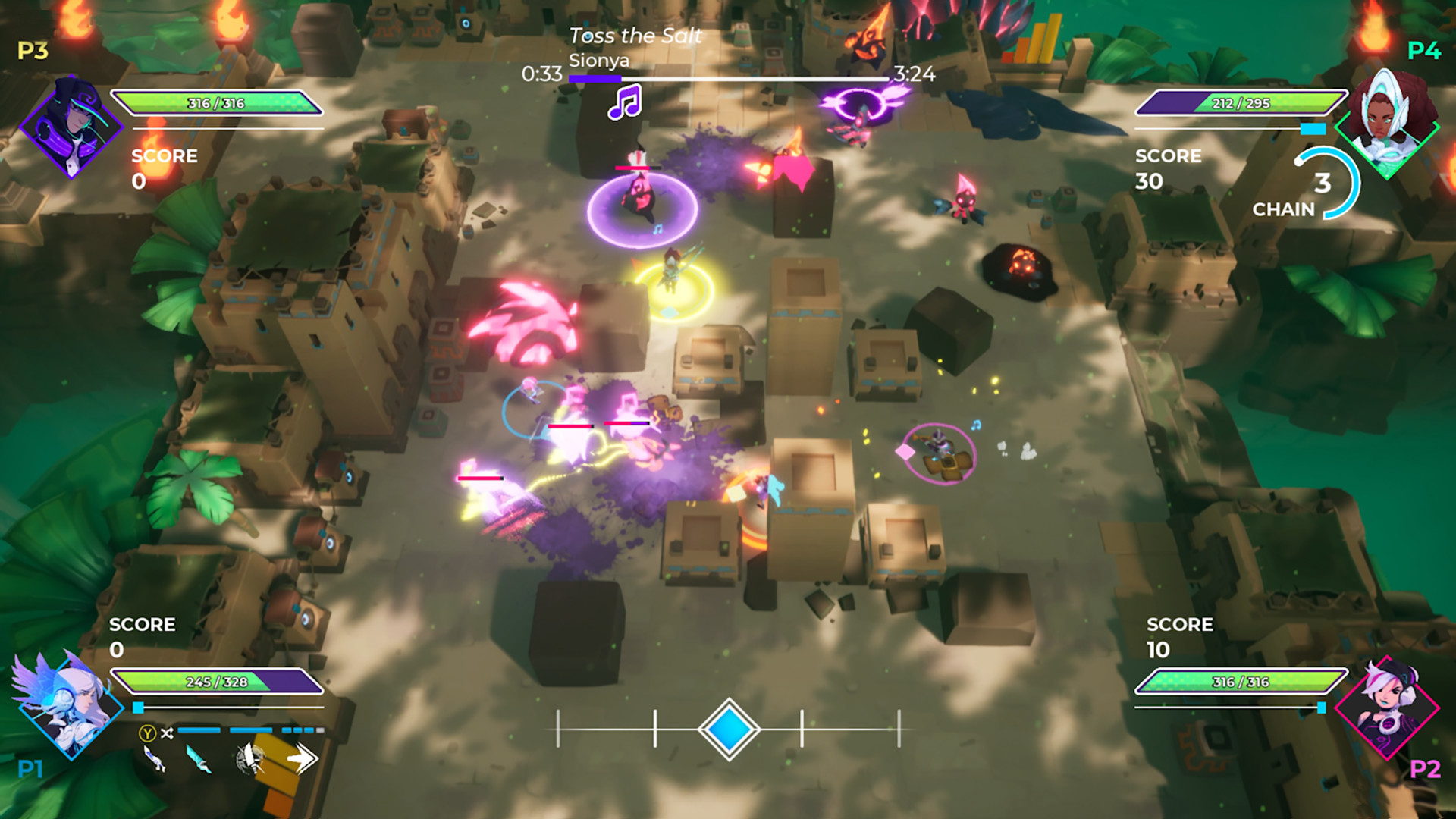 Soundfall is the perfect example that you don't need big, well-known artists to release a beautiful, varied soundtrack. In Soundfall you will find a wide variety of original music and licensed music. You can hear all genres from jazz to rock in the game. In free mode you can sort all the songs in alphabetical order or filter by artist or area. Due to the extremely comprehensive soundtrack with good tracks and the possibility to add your own songs to the PC version, you don't have to worry that there is nothing for you.
Soundfall is an admirably crafted rhythm game that strikes a good balance between rhythm gameplay and dungeon crawler action. With the story mode, free mode and increasing difficulty, there is always a lot to discover. Powering up the characters is a little superficial, but it's enough to pique your interest. The versatile soundtrack definitely adds to that. Tight kicks and flamboyant fights make Soundfall a harmonious whole.